Volunteering makes me feel…

Volunteering makes me feel that I'm giving something back, in some small way.  If I try and analyse it from a purely logistical perspective for example that I give up one evening per week to meet up with my Advocacy Partner, and attend maybe a dozen or so different types of support meetings every year.
I mean it's not like I'm going round pensioner's gardens every single weekend with a wheelbarrow and garden tools and re-landscaping some needy old person's garden, and getting stuck into it with a pick and shovel, or re-decorating someone's house or building a path or a wall or a community centre, or driving people around?
But when I look at the actual differences an Advocate makes in a partnership, the things that aren't that easy to define, like being the one person that my partner can rely on, the trust that's been built up over several years, that his family treat ME like THEIR family, then I can see that advocates can and do make a difference
It's two steps forward one step back at the best of times, and often one step forward and three steps back, but being able to support and encourage someone towards their goal of being independent, or at least a little more independent, and keeping their hopes alive, helping them to stay positive is well worth it
Bill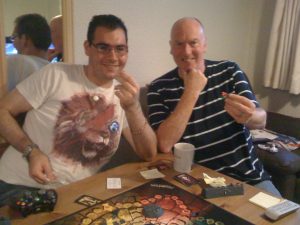 (Pictured is Bill (right) with his Citizen Advocacy Partner)