Thank you for attending our Summer BBQ Partnership event yesterday, 21st June 2017.  Over 50 people were in attendance including some special guests.  One of which was our Patron, Councillor Jim Leishman – Provost of Fife as well as Councillor Gerry Haldane, Councillor Mino Manekshaw and Councillor Fay Sinclair who were all in attendance to witness first-hand the valuable work that we provide to vulnerable adults in West Fife. Thank you for taking the time out of your busy schedules to come visit us!
We would also like give an extended thank you to the two generous companies who kindly donated to the event.
Tesco Dunfermline Fire Station who, for a second year running,  donated burgers, sausages and rolls for the event.  Community Champion Julie Stokes is pictured with Tricia Smith, Administrator.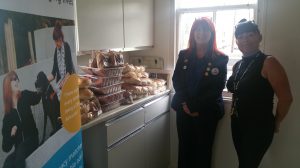 Co-op at Linburn Road, Dunfermline donated refreshments and home baking for the event as well as two volunteers to assist on the day.  Pictured below is Alan from the Co-op Store with one of  our Trustees/Advocates, Peter. Then we have Tracy pictured who very kindly provided the home baking for us.   Remember….. Dunfermline Advocacy is a chosen Co-op Local Cause and you can support us by visiting https://membership.coop.co.uk/causes/7220