Dunfermline Advocacy are delighted to announce that we have received a Young Start award of £45, 939 from the Big Lottery Fund to support our Citizen Advocacy and Young People project.
Announcing the funding, Maureen McGinn, Big Lottery Fund Scotland Chair, said, "Young Start helps Scotland's next generation unlock their talents through a wide range of activities. These are designed to engage and inspire young people, and ensure they have the best possible start in life.  The funding will make a big difference and I wish Dunfermline Advocacy every success as it goes on to develop and expand its project for the benefit of young people in their local community."
The grant will support our continued work with vulnerable young people in West Fife for two years.
Rachel Annand, CEO of Dunfermline Advocacy, said "We are absolutely delighted to receive a Young Start grant to support young people here in West Fife!"
Rachel explained "This grant will support our work with vulnerable young people aged 16 to 24 for two years, and will also support and develop young people in West Fife as volunteer Citizen Advocates. Young people will be supported to improve social networks, increase self-esteem and develop confidence."
Shannon and Hannah will have been matched for two years this summer in what Hannah describes as a 'mutually beneficial friendship'. "Throughout our time together I have seen Shannon's confidence and trust in me grow which is wonderful to see.  I have gained so much through spending time with Shannon. My confidence in my own skills has grown. I can honestly say that Shannon and I are friends"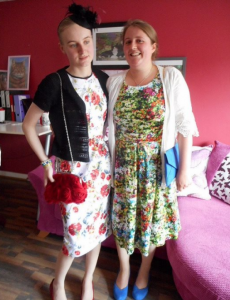 Shannon and Hannah attended the Royal Garden Party at Holyrood in July 2016 to celebrate Dunfermline Advocacy being awarded The Queen's Award for Voluntary Service in 2015 and both enjoyed getting dressed up for the day!
You can read the official Big Lottery Fund Press Release here:
https://www.biglotteryfund.org.uk/global-content/press-releases/scotland/260717_sco_youngstart_youth#