"We get along very well together and I make a point of seeing him at least once a week."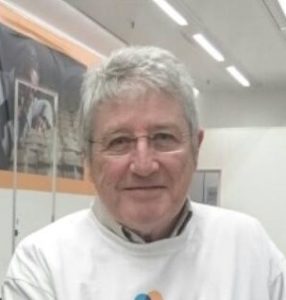 I first met John on 17th September 2015 and have been assisting him wherever I could since then.
We get along very well together and I make a point of seeing him at least once a week. Like John I have retired so this doesn't create a big problem with my time! We keep in touch too by phone and he knows to call me if anything is troubling him.
He is physically disabled, having severe breathing problems which restrict his movements outside to a large extent. This means that much of our time has been taking jaunts in the car to places in Fife, Stirlingshire and West Lothian that are in reasonable reach of his home in Dunfermline.
John is an ex miner, having worked for the Coal Board for nearly 30 years and living alone is prone to a degree of loneliness that I hope has been alleviated to some extent by my visits.
These rides in the car have served to open up his horizons a bit, and we have visited such venues as the new Forth Crossing Exhibition, Stirling Castle, Linlithgow Palace, The Falkirk Wheel and the Kelpies as well as such Fife favourites as Deep Sea World, the Carnegie Exhibition, The Jimmy Shand Memorial statue in Auchtermuchty, Vane Farm Bird Sanctuary, Kinghorn Loch and Lochore Meadows Park.
These outings (or wee hurls as John calls them) in the car have been supplemented by getting a lot of necessary things done in order to improve his quality of life.
Together we have registered him to vote in the local and national elections as well as the two referenda; the Blue Badge (disablement) successfully applied for; applied for bedroom furniture from the Coal Industry Welfare scheme; completed form changing from DLA to PIP (which actually resulted in a substantial increase in benefits) and a 10 day holiday being planned during 2017 at the Coal Industries Convalescent Trust at Blair Castle Culross. We will also apply shortly for replacement of his Sitting Room carpet to the Coal Industry Welfare Scheme.
I personally have obtained a lot of satisfaction in helping John (despite his independent nature) to get things done to improve his lifestyle. That of course is beneficial to us both, and the ethos of Dunfermline Advocacy.
Peter (Citizen Advocate and Volunteer Trustee)
(Pictured below is Peter with his Citizen Advocacy Partner; Peter helping in our Garden and with bag-packing).